Gifted Education addresses the intellectual, academic, creative, artistic, and leadership levels of students. Gifted and talented students both possess and/or exhibit numerous characteristics such as thinking in different ways, learning at a faster pace, exhibiting remarkable memories, deal with complex concepts, and may have passionate interests. However identified, students need gifted programs, differentiation, and appropriate resources including creative, critical, and higher-order thinking skills are necessary to meet the needs of these students who, in most cases, have mastered content before it is taught. They may need acceleration and/or enrichment in the areas in which they perform at a high level.
Or they may not perform up to their potential, underachieving, and strategies need to be implemented to address that need. Our products address the topic of teaching gifted and talented students as well as provide units and activities that allow for acceleration and enrichment.
Need a lesson immediately? Check out our Gifted Education Mini-Pieces including Units, Activities here! (Download them immediately after purchase — You can even sort by the standard you need to teach!)
Showing 1–12 of 115 results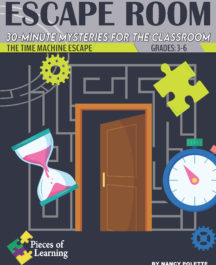 $

12.95
These new Escape Room Mysteries are sweeping the nation!
Great for the entire class to work together to solve the clues or for smaller groups to solve individual clues.  Each packet contains the objectives, clues, instructions on organizing the class, and preparing the room. There are no locks for the teacher to set or the students to open.  Set-up time for the teacher is usually less than 15 minutes and the mystery can be solved within 30 to 45 minutes.