Here are a few updates from Shannon Anderson!
Here is a podcast interview where she shares some tips from the book, Be an Amazing Writing Teacher. https://lessonimpossible.podbean.com/e/agent-shannon-anderson-writing/
She was also interviewed on this blog: https://unicornjazz.com/this-good-morning-america-teacher-appearance-happened-for-her-acts-of-kindness/?fbclid=IwAR03kMKilttQAh-CAxj_1UuqKpMZ9pDw3A6eWn9NGF4h0Dv8Mpr8vTz2Wfw
Budsies has made the deliveries (if you haven't seen this, please read more on her website below) made to students' home go viral. She has been on the Today Show, Good Morning America, in the USA Today posts, and many tv stations! You can see some of those on the media page Shannon's my website: https://www.shannonisteaching.com/media.html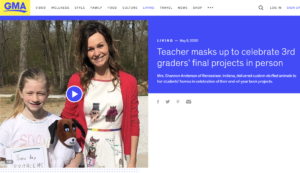 Lastly, Indiana made all of their teachers – Teachers of the Year! Fun!